Re: E-body Rallye New Wood Plates

From: ********
To: CarGraphix@aol.com
Sent: 5/16/2009 12:17:48 P.M. Eastern Daylight Time
Subj: AMAZING
David/Beth The E Body wood grain piece that I received from you is absolutely amazing !!! This, hands down has got to be the best reproduction part that I've come across in years. Putting it beside the best available from BE&A or DMT is a joke ...you're light years ahead of them in correctness and details....
You need to get the word out about these things and BE&A and PG Classics will never sell another one of theirs ! If you could work on the price a little to better compete with the current offerings then you for flatten the compition....sad to say, there is still a lot of people where price is a more important factor ten correctness. AGAIN.....an AMAZING part and you can be sure I'll be ordering more..... Sincerely...Alan (Alan Gallant Automotive Restoration in Georgetown, Ontario)
---
Re: 2007-and-later Challenger Mid-body Stripe/Lettering

From: *****@mymts.net
To: cargraphix@aol.com
Sent: 5/14/2010 1:00:12 A.M. Eastern Daylight Time
Subj: RE: My 70 -Style 2010 Challenger Decal
Hi David, It's Pat Kaniuga up here in Winnipeg Canada. I bought a white 70-style stripe from you for my 2010 PCP Challenger R/T in February. I just wanted to tell you how great it is. First rate. Top quality. It's a perfect match to my 1970. My buddy who installs stripes here cut the R/T into it flawlessly. I've encluded a few pics for you. My friend Liz just bought a V6 Challenger and will be calling to order a gloss black 70-style from you as well. Please take as good a care of her as you did me. Cheers,
-Pat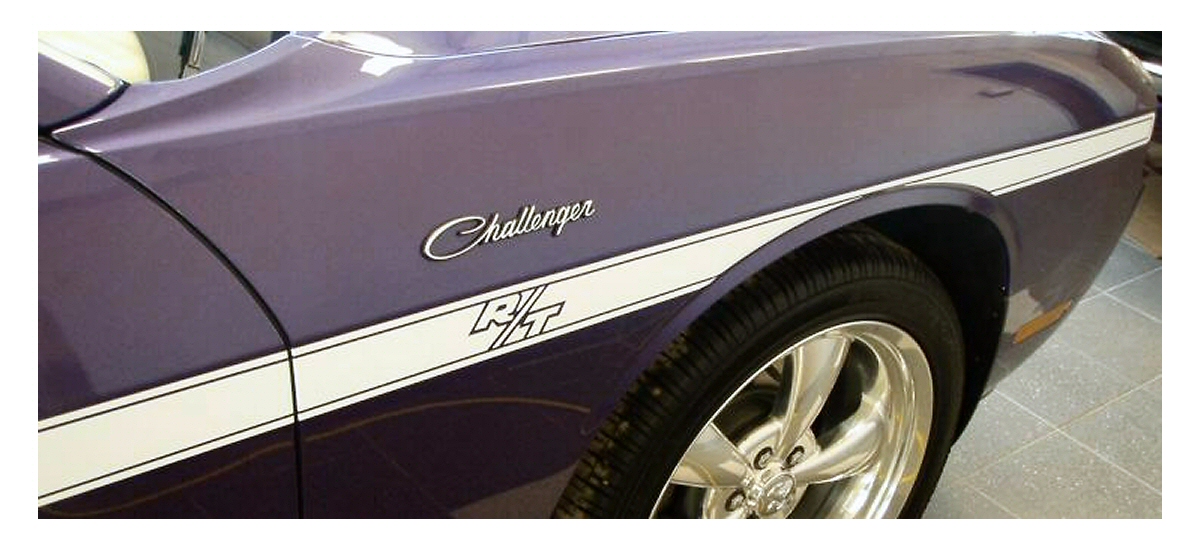 ---
Dear performancecargraphics, You asked for feedback on the stripes I bought, your first set of mat black 09 Challenger belly side stripe. I LOVE THEM. Perfect fit. Thanks. Bailey
- brhankins
---
From: ********
To: ********
CC: CarGraphix@aol.com, mpcparts@yahoo.com, EDeTaeye@legendaryautointeriors.com
Sent: 6/13/2009 8:31:36 A.M. Eastern Daylight Time
Subj: last minute detail
Randy Holden - editor at Mopar Collector's Guide: As I mentioned there were a few outstanding vendors that were very helpful in restoring this car. As guys looking for top notch vendors read your magazine and as these vendors advertise in your magazine, I feel it would be of huge benefit to mention them in the white challenger w/ white stripes article.

Legendary

- reproduced the seats obviously they do an outstanding job for the hobby but to find this stuff!!! Wow.

Mopar City

- after too many ebay letdowns I came across a vendor that gets it right the first time - everytime.... Mopar City. Finding an unusual part for a year specific car is challenging until you call these guys. Easy to work with and very trustworthy. Kudos to my heros!

Performance Car Graphics - Tallahassee Fl.

- a ralleye dash was done 10 years ago but not installed as the original restorer had to give up the project. When the second restorer put the dash in the tach wouldn't work. One call to David (remind you it's been 10 years!) and this standup vendor said - return the tach and we'll test it. If it's not right we'll refund you - in the meantime we'll send you a correct tach to install when the old one comes out. Wow - what service and their end product is top of the line. Bob Meldahl
---
The finished parts really look great and have that WOW effect when you open them up and see them for the first time. Kind of reminds me of Christmas morning when I was a kid. The quality is great and I am sure better than the OEM. Thanks again for the great job. Wallace in Texas
---
I have restored two cars, a '70 Challenger T/A and a '70 GTX 440 6 pack, to Concours show quality. I used David at Performance Car Graphics to restore and detail the gauges, switches, bezels and all other dash and console components. I was amazed at his knowledge, his quality of workmanship and attention to detail. The work was done in a timely and professional manner with open communications throughout. It is so nice to see that someone still takes pride in a job "Well Done"! Thank you David, your company has far surpassed my expectations. Glen Kerunsky, Calgary, Alberta, Canada
---
From: rcorbeil@tbaytel.net
To: CarGraphix@aol.com
Sent: 11/27/2008 8:39:44 A.M. Eastern Standard Time
Subj: 68 Charger Cluster
Hi Beth, Hi David, David, I just picked up the inst. cluster you sent me, and felt I had to email you about it. It looks like NEW ! I thought it would look good, but it far exceded my expectations. Please accept my Thanks for a job very well done. Everyone I show it to can't believe it, and I am making a point of showing all my friends. Thanks again ! Rob Corbeil
---
From: harold *******
To: cargraphix@aol.com
Sent: Fri, Jun 24, 2011 10:14 pm
Subject: Thank-You from a satisfied customer.
Dave, Just wanted to drop you a line to say thanks for all you do for our hobby. The white reflective 383 engine call outs with the gloss black back ground for the '71 Road Runner was just what I wanted. You are a truly one of the good guys with customer service second to none. You are now the one and only source for decals and graphics for me in the future. Thanks again..... Harold.